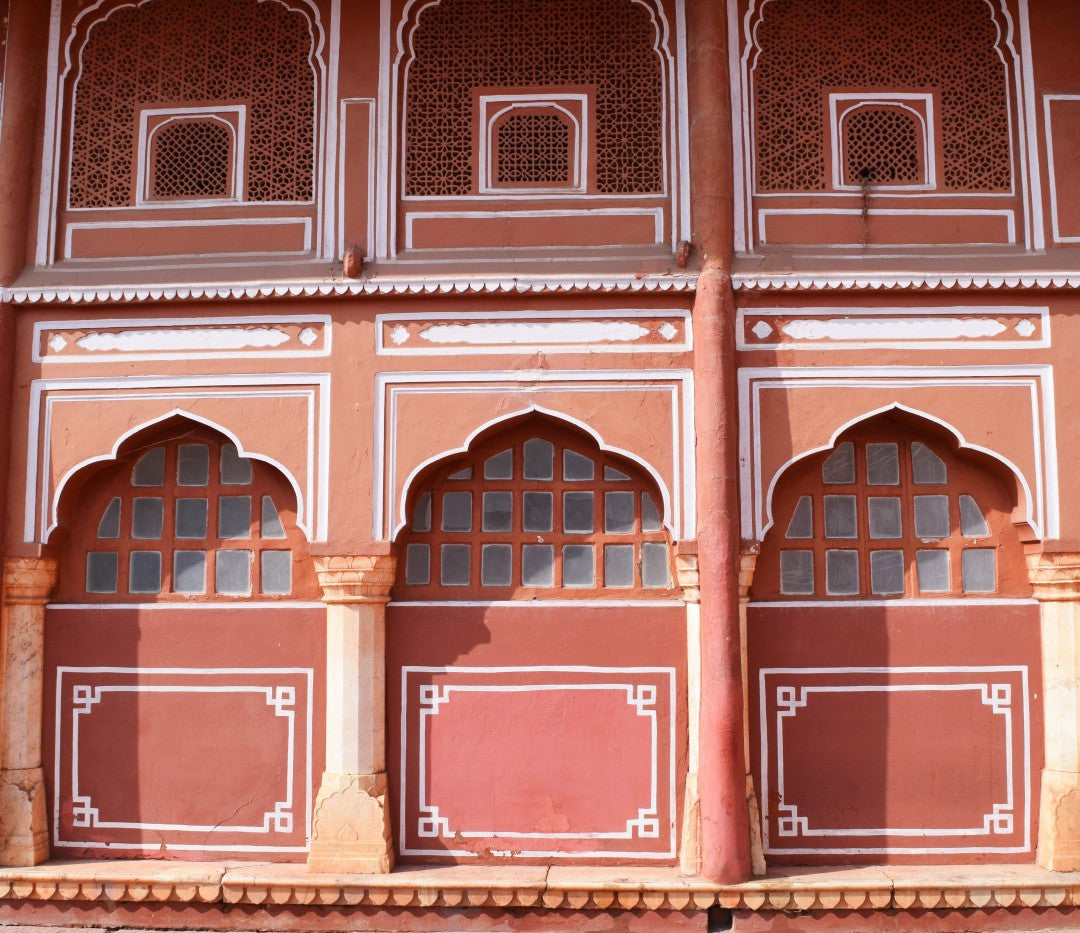 Jaipur will forever hold a special place in my memory. It was the first place I saw decorated elephants walking down a cosmopolitan road filled with cars and scooters. The first time we stayed in an old haveli (gorgeous old family homes/palaces found throughout the state of Rajasthan). The first place I got to sit in warehouses surrounded by textiles and shop for hours. It was also the first place that I dared to try the chicken in India, which I still claim to be the best tandoori chicken I have ever had….which then perhaps caused my 6 days of Delhi Belly… You get the point. There is a reason why Jaipur is a main stop on the tourist trail of India. There is also a reason why it has earned the title of The Pink City. The newer part of town is much more urban than I expected, but when you enter the beautifully worn gates of the old city, the pink wall surrounding it and the sounds and smells of old India hit you again (sometimes fragrantly and sometimes less so as you have to pass the chicken market).
The Pink City includes the City Palace, the Hawa Mahal, and innumerable market vendors peddling the most pashminas per square mile that must exist anywhere in the world. Everyone wants to sell you something. Since our textile shopping hadn't really revved up until Jaipur, we quickly realized that if you mention a certain product you are looking for to a shop owner, you will be promptly shuffled from shop to shop before even realizing what is happening. The result? Absolutely everything you could want plus that specific item you were looking for as well. Everyone has back rooms or storage rooms or other stores around the city. Now add on top of that dropping a line about owning a store in America and the prices drop, cups of free chai start rolling in, and you are officially in business. One day we got led into an alley, back into the separate family shop/storage and proceeded spending 4 hours digging while they brought us cups of tea, water and a surprisingly large fruit plate. Another evening after showing a shop owner a photo of a specific kind of antique textile I was searching for, he walked me down to his father's shop, who then called someone, arranged a tuk tuk and sent me on my way. Never mind I only bought one piece because the prices definitely had a "tourist tax". The point is that these guys hustle. They hustle hard. Something we came to appreciate and admire.
On the days we weren't shopping and before we found the serious factories outside of town (oh the 40 minute tuk tuk ride, don't let me forget about that) and spent hours picking out some amazing products, we toured the remaining sights and visited the beautiful fort located up a canyon that faintly resembled home (except for the lumbering camels and elephants on the road). It's difficult to not post every photo I took since Rajasthan seems to be incredibly photogenic, so I'll try to share my favorites.